Derby
Regular price
$79.95
Sale price
$49.99
Unit price
per
Sale
Sold out
Derby Originals line of premium stainless steel stirrup irons features a broad array of sizes and styles of stirrup so that every rider, regardless of size or sport, can find their perfect pair of irons. DESIGNED WITH YOUR COMFORT IN MIND - Derby Originals brand stirrups are only made from high-grade stainless steel and are designed to offer a comfortable option for every rider.
TRADITIONAL DESIGN - these stirrup irons feature a traditional fillis iron design that is both comfortable to ride in and suitable for almost any riding application. This is our best selling and most widely used design!
STAINLESS STEEL CONSTRUCTION - our stirrups are only made from stainless steel, and unlike other inferior stirrups will never rust. When you invest in Derby brand stirrups, you're investing in quality.
WEIGHTED DESIGN - our fillis irons are weighted so that if you lose your stirrup, they will hang down and it will be much easier for you to regain your footing than with a non-weighted stirrup.
AN ALL PURPOSE STIRRUP - fillis irons are the world's most popular stirrup irons and are ideal for use in any discipline due to their comfortable and universal design. Our fillis irons are designed to be comfortable for any sport.
Share
View full details
Top quality horse tack and rider apparel from My Horse Tack LLC
Affordable Premium Equine Tack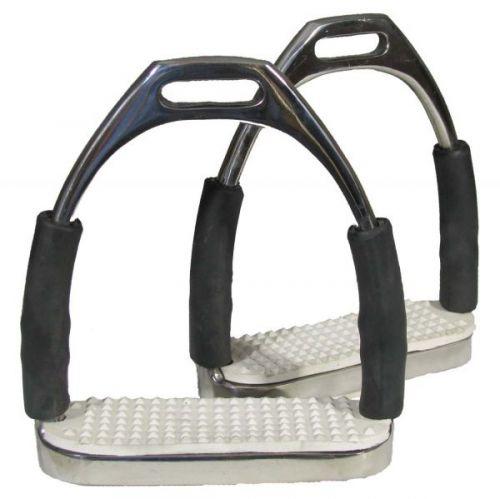 English Stirrup Irons
Derby Originals Stainless Steel Weigted Jointed Flex Comfort Stirrup Fillis Irons with Rubber Pads
Shop now