Derby Originals
Regular price
Sale price
$50.99
Unit price
per
Sale
Sold out
DERBY ORIGINALS' ENGLISH OPULENCE COLLECTION IS COMPOSED OF CLASSIC, TRADITIONAL ENGLISH LEATHER HORSE HALTER STYLES OF MANY TYPES: FEATURING PREMIUM ADDITIONS SUCH AS EXTRA PADDING ON PRESSURE POINTS, DOUBLE, TRIPLE, OR FANCY STITCHING, SUPPLE AND ADJUSTABLE LEATHER BODIES, AND MORE. THESE HALTERS WERE DESIGNED TO BE FUNCTIONAL AND ATTRACTIVE IN THE BARN OR AT PASTURE, ALL WHILE RETAINING A HIGH CLASS LOOK AND PROVIDING A COMFORTABLE FIT FOR YOUR HORSE. IF OPULENCE IS WHAT YOU DESIRE, THAN LOOK NO FURTHER THAN THESE HIGH-CLASS, TRADITIONALLY-DESIGNED HORSE HALTERS.


QUALITY CONSTRUCTION - Derby Originals has been making high-quality leather horse halters of all kinds for 20 years. Our horse halters come in a variety of styles and leather colors, types, sizes, and with different features so that you can best find what suits you and your horse!
SOLID LEATHER BUILD - this leather horse halter features a solid double-layered leather build, which was designed to provide maximum comfort and fit while maintaining a sleek and classic appearance.
FANCY STITCHING - this horse halter features eloquent fancy stitching designs on the leather body of the halter, which gives a high-class feel and attractive look to the horse halter without detracting from your horse's natural beauty.
ADJUSTABLE DESIGN - this horse halter features an adjustable noseband and crown so that you can easily adjust it and find the best fit possible for your horse.
BRASS HARDWARE - this leather horse halter features high-quality rust-proof solid brass hardware, which will look attractive and hold up strong for many years to come.
Please note that the Warmblood horse halters are labeled as Draft horse but measure closer to Warmblood horse. Please measure your current well fitted horse halter for reference before purchasing.
Share
View full details
Top quality horse tack and rider apparel from My Horse Tack LLC
Affordable Premium Equine Tack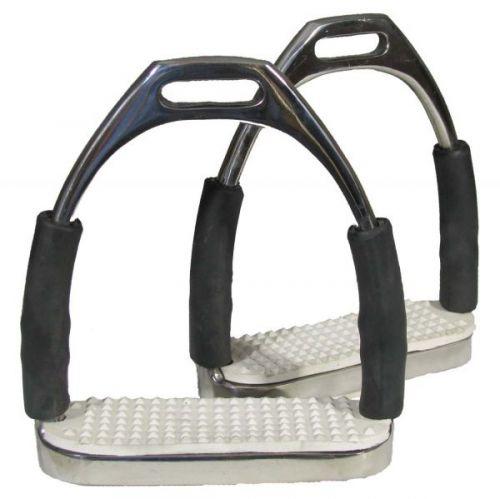 English Stirrup Irons
Derby Originals Stainless Steel Weigted Jointed Flex Comfort Stirrup Fillis Irons with Rubber Pads
Shop now