Slow
Regular price
$61.99
Sale price
$49.99
Unit price
per
Sale
Sold out
Derby Originals' line of slow feed hay bags has been meticulously designed, tested, and improved over the past 15 years in order to give you a product superior to anything else available on the market. Our unique web front hay bags are designed with cross stitches at every intersection and bartack stitching at all stress points along the top, sides, and bottom of the bag. This hay bag also features our exclusive Super Tough Bottom®: a grid of reinforced nylon webbing that will never rip like solid or mesh bottoms. Our bags are built tough from premium materials and are designed to last for years to come. This hay bag is designed to be a great everyday feeder for most horses and other animals: it measures 21x7x25" and can hold about 2-3 flakes of hay. This hay bag has 1.75" square front openings which will prevent hay wastage and slow down their rate of consumption, but still allow for frustration-free feeding. This premium hay bag also includes a 6-month limited manufacturer's warranty offered by Derby Originals.
HOLDS 2-3 FLAKES OF HAY - this 21x7x25" hay bag with 1.75" square openings holds approx. 2-3 flakes of Timothy, Orchard, Alfalfa, or any other type of hay. Our hay bags were designed to minimize frustration and can be stuffed in seconds.

SUPER TOUGH BOTTOM® DESIGN - our exclusive Super Tough Bottom® is made of reinforced overlapping nylon webbing. This design allows for superior strength and durability while keeping your hay fresh and allowing dust and debris to exit the bag.

DURABLE LASTING CONSTRUCTION - our heavy-duty reinforced nylon hay bag has replaceable hanging straps and snaps. This allows you to easily replace worn parts, extending the life of the bag. Many customers say their hay bag has lasted 3+ years!

IMPROVES DIGESTION - horses are designed to spend up to 18 hours a day grazing. Slow feeding allows you to replicate this natural behavior and is recommended by veterinarians to prevent gastric ulcers, colic, and boredom-related behavioral vices.

SIX MONTH WARRANTY - this hay bag has a 6-month limited manufacturer's warranty offered by Derby Originals. This warranty covers manufacturing defects. Accidental damage or wear and tear is not covered. Contact the manufacturer for more information.
Share
View full details
Top quality horse tack and rider apparel from My Horse Tack LLC
Affordable Premium Equine Tack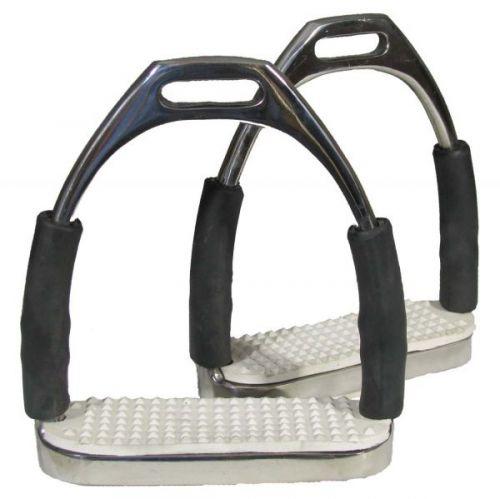 English Stirrup Irons
Derby Originals Stainless Steel Weigted Jointed Flex Comfort Stirrup Fillis Irons with Rubber Pads
Shop now