Derby
Regular price
$93.99
Sale price
$79.99
Unit price
per
Sale
Sold out
DESIGNED WITH YOUR HORSE'S COMFORT IN MIND - this premium horse blanket by Derby Originals was meticulously designed here in the USA to be comfortable for your horse to wear. This sturdy horse blanket is made from durable and high quality materials.
THE PERFECT EVERYDAY HORSE BLANKET - this versatile horse blanket was designed to work for a wide variety of horses and be the perfect every-day horse blanket for chilly autumn, winter, and spring weather and for use in both dry and wet conditions.
DESIGNED FOR BOTH INDOOR AND OUTDOOR USE - this sturdy turnout horse blanket was designed to be comfortable to wear both indoors and out. Our durable ripstop design means this horse blanket is great for use out in the pasture and group turnout.
DURABLE TRIPLE LAYER DESIGN - this horse blanket features a soft but strong 210T inner lining, 300g of polyfil insulation that provides extra warmth without overheating, and a sturdy 1200D nylon exterior that is ripstop, breathable, and waterproof.
2 YEAR LIMITED MANUFACTURER'S WARRANTY - this horse blanket is eligible for a 2 year warranty that protects against manufacturing defects. Normal wear and tear and accidents are not covered. To register your product warranty, visit Derby Originals' website.
Dried mud, hair, hay, and other debris should be regularly brushed off your horse blanket. A stiff dandy brush often works best for this. Keeping your horse blanket clean helps extend its lifespan, as well as help to keep your horse clean and happy. You can also use a damp, soapy rag to remove mud/debris and then wipe your horse blanket dry. Fleece horse blankets should only be hand washed and never machine washed. All removable parts should be removed before washing, all velcro straps velcroed together, and your horse blanket should only be washed in a detergent made for use with horse blankets, or gentle animal-safe cleaners. When washing, use cool water and hand wash gently. Do not use fabric softener with any of our horse blankets as it will damage their waterproofing and breathing abilities and prevent the horse blanket from wicking water and sweat off your horse. All of our horse blankets should be air-dried or line-dried, never put in a dryer. If your horse blanket becomes nicked or torn, the horse blanket should immediately be sewn or patched to prevent further damage from occurring.
Share
View full details
Top quality horse tack and rider apparel from My Horse Tack LLC
Affordable Premium Equine Tack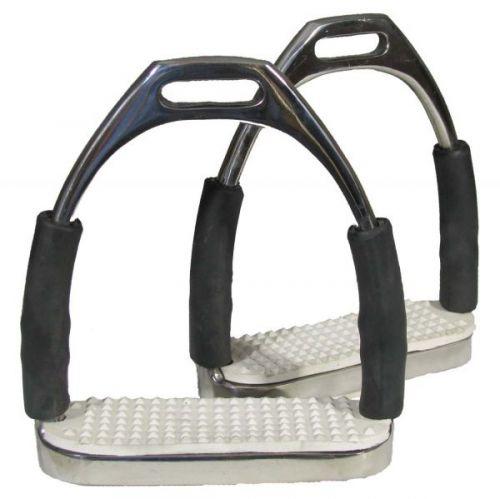 English Stirrup Irons
Derby Originals Stainless Steel Weigted Jointed Flex Comfort Stirrup Fillis Irons with Rubber Pads
Shop now