Paris Tack
Paris Tack's American Elite collection is composed of only the finest USA Leather halters, with soft, supple, vegetable-tanned leather made by Wickett and Craig of Pennsylvania. These halters are designed to provide the utmost comfort to your horse in the stable or at pasture, while retaining a high-class look and feel that will remain for many years. These halters are ideal for the discerning rider who wants more for their horse than the basic leather halter, and instead desires something elite.
 QUALITY CONSTRUCTION - Paris Tack has been making high-quality leather halters of all types and sizes for 20 years. Our halters come in a variety of styles and leather colors, types, sizes, and with differing features so that you can best find what suits you and your horse!
CRYSTAL INLAY - this halter features stunning crystal inlay on the cheekpieces and noseband which is sure to dazzle in the show ring.
USA LEATHER - these halters are made from only the best-quality leather sourced from Wickett and Craig of Pennsylvania. These halters were hand-crafted with care and have a beauty and suppleness that cannot be matched.
SOLID LEATHER BUILD - this leather halter features a solid double-layered leather build, which was designed to provide maximum comfort and fit while maintaining a sleek and classic appearance.
BRASS HARDWARE - this leather halter features high-quality rust-proof solid brass hardware, which will look attractive and hold up strong for many years to come.
Share
View full details
Top quality horse tack and rider apparel from My Horse Tack LLC
Affordable Premium Equine Tack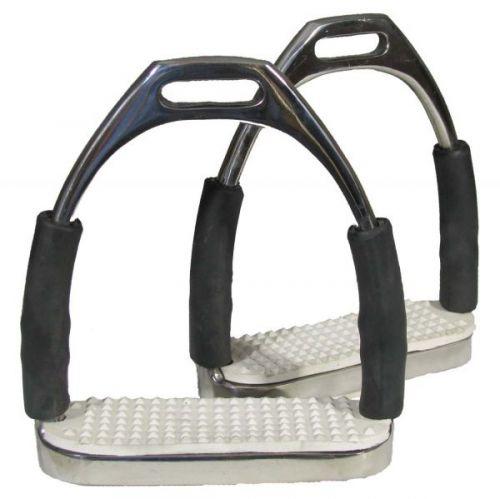 English Stirrup Irons
Derby Originals Stainless Steel Weigted Jointed Flex Comfort Stirrup Fillis Irons with Rubber Pads
Shop now