Paris Tack
Regular price
$149.95
Sale price
$65.99
Unit price
per
Sale
Sold out
Paris Tack has been a producer of all types of English tack and goods for 20 years, from everyday classics to the modern and innovative. Our English tack pieces are only made from real leather and feature high-quality hardware, and are designed to be both attractive and functional.
DESIGNED WITH YOUR HORSE'S COMFORT IN MIND - Paris Tack has been making English girths for over 20 years, and is dedicated to putting your horse's comfort and safety, as well as your own, first.

HIGH-QUALITY DESIGN - this elegant girth features a removable sheepskin lining that is soft, non-chafing, and moisture absorbent, as well as a real leather body, sturdy elastic, and high-quality rustproof roller buckles.

FEATURES ELASTIC ROLLER BUCKLE ENDS - this girth has a set of roller buckle ends on each side that makes cinching up your girth easier with less hassle. Our high-quality metal roller buckles are also rustproof.

HAS ADDED FANCY STITCHING - this girth features white fancy stitching across the leather of the girth.

HAS A REMOVABLE SHEEPSKIN LINING - this girth features a removable plush sheepskin lining that can be taken off your girth for easier cleaning. This sheepskin lining attaches with velcro to the leather of your girth.
Share
View full details
Top quality horse tack and rider apparel from My Horse Tack LLC
Affordable Premium Equine Tack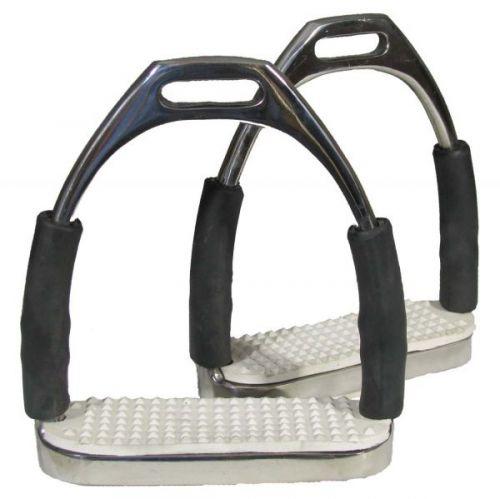 English Stirrup Irons
Derby Originals Stainless Steel Weigted Jointed Flex Comfort Stirrup Fillis Irons with Rubber Pads
Shop now