Derby Originals
Regular price
$114.99
Sale price
$77.99
Unit price
per
Sale
Sold out
Derby Originals' latest line of ultra-premium winter blankets, the Windstorm Series, was designed to offer a myriad of blanket options in material, weight, and design for equines of all sizes. This comprehensive line features stable and turnout blankets and sheets available in a plethora of beautiful, modern colors in every size from 36" all the way up to rare 100" large draft horse sizing. These blankets are not only beautiful but designed to be hardy and long-lasting with even the most destructive horses.  This blanket also comes with elastic, removable leg straps.

DESIGNED WITH YOUR HORSE'S COMFORT IN MIND - this premium stable blanket by Derby Originals was meticulously designed here in the USA to be comfortable for your horse to wear. This indoor blanket is made from high quality materials.
CLOSED FRONT DESIGN - this blanket is designed to slip over your horse's head and features no hardware on the front of the blanket for increased safety indoors, and to prevent your horse from undoing the buckles on their blanket.
DESIGNED FOR MAXIMUM INDOOR COMFORT - this premium stable blanket was designed to be warm, draft and wind-resistant, breathable, water-resistant, and comfortable to wear no matter how long your horse is blanketed indoors.
STURDY VELCRO BELLY BAND CLOSURE - these stable blankets feature a secure fold-over velcro design along the back to allow for a highly adjustable fit that prevents dangerous dangling straps.
ADJUST TO FIT NECK - this blanket features an adjustable neck strap on either side so that you can make sure your blanket fits snugly and comfortably on your horse, and prevent rain or snow from getting under the blanket.
Dried mud, hair, hay, and other debris should be regularly brushed off your blanket. A stiff dandy brush often works best for this. Keeping your blanket clean helps extend its lifespan, as well as help to keep your horse clean and happy. You can also use a damp, soapy rag to remove mud/debris and then wipe your blanket dry. Fleece blankets should only be hand washed and never machine washed. All removable parts should be removed before washing, all velcro straps velcroed together, and your blanket should only be washed in a detergent made for use with horse blankets, or gentle animal-safe cleaners. When washing, use cool water and hand wash gently. Do not use fabric softener with any of our blankets as it will damage their waterproofing and breathing abilities and prevent the blanket from wicking water and sweat off your horse. All of our blankets should be air-dried or line-dried, never put in a dryer. If your blanket becomes nicked or torn, the blanket should immediately be sewn or patched to prevent further damage from occurring.
Water Resistant Construction: this blanket is made from a water-resistant nylon material that will resist getting wet in mild conditions. These blankets are not impervious to water and are not designed for use in very wet and snowy conditions.
Sizing Information: to size this blanket, measure (in inches) from the center of your horse's chest, to the end of your horse's rump. If your horse is in-between sizes, we recommend sizing up to the closest available size.
Share
View full details
Top quality horse tack and rider apparel from My Horse Tack LLC
Affordable Premium Equine Tack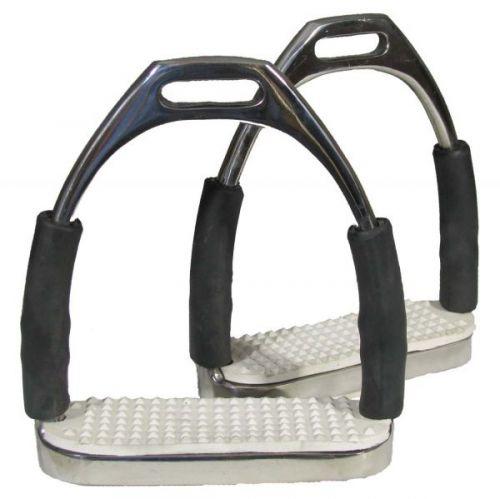 English Stirrup Irons
Derby Originals Stainless Steel Weigted Jointed Flex Comfort Stirrup Fillis Irons with Rubber Pads
Shop now