Derby Originals
Regular price
$69.99
Sale price
$49.99
Unit price
per
Sale
Sold out
DERBY ORIGINALS ALL PURPOSE DIAMOND QUILTED ENGLISH SADDLE PAD WITH FULL FLEECE LINING
         This pad by Derby Originals is a classic quilted, top quality all purpose English saddle pad with high-density foam and full fleece lining along the underside for ultimate comfort. The high-density foam absorbs shock and provides relief at pressure points during riding, and the fleece lining provides gentle contact with your horse's coat and skin preventing rubs and sores. Utilize the Velcro billet keepers and girth loops to prevent tack from shifting and slipping. The dimensions of this saddle pad are 21" across the spine, and 28" drop length. The color and design enable this pad to be compatible for every equestrian.
KEY FEATURES & ITEM SPECIFICATIONS
ALL PURPOSE - not just for tails! This saddle pad is adored by all equestrians as a daily schooling pad as well.
 GENEROUSLY SIZED - the dimensions of this English saddle pad make for a great fit. The spine is 21" across, and the drop length from the spine is 28" to the end of the pad.
TRADITIONAL LOOK - featuring a classic diamond-quilted patterned uniformed throughout the pad. This is a great schooling and show pad, available in black.
PREVENTS SHIFTING - velcro billet keepers and girth loops secure the pad to prevent the saddle pad from shifting underneath the tack.
EXTRA COMFORT - this English saddle pad has a full fleece lined underside for gentle contact with your horse's back and is coupled with high-density foam for ultimate comfort and optimal airflow.
Share
View full details
Top quality horse tack and rider apparel from My Horse Tack LLC
Affordable Premium Equine Tack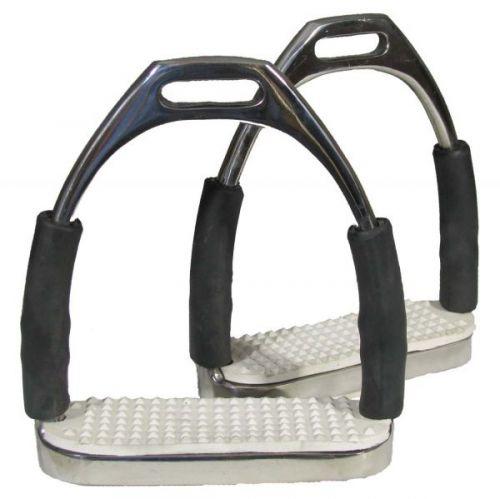 English Stirrup Irons
Derby Originals Stainless Steel Weigted Jointed Flex Comfort Stirrup Fillis Irons with Rubber Pads
Shop now